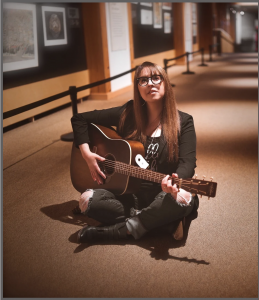 Thelma Cheechoo is a contemporary Cree folk singer/songwriter born and raised on a small remote island on the southern tip of James Bay called Moose Factory, Ontario. Thelma's family lived on Kesagami Lake where they had no running water, no electricity, and they lived off the land. The 15-member Cheechoo family was always playing music in the home.
Thelma has shared the stage with some amazing musicians including Canadian Country music icon Jimmy Rankin, Canadian Country music legend Carroll Baker, Grammy Award winner Joanne Shenandoah, and past performances with The Cheechoo Family, Blue Rodeo, Susan Aglukark, Indigenous music icon Buffy Sainte-Marie, Blackie and the Rodeo Kings, John McGale of Offenbach fame, Jake Thomas and the Fundamentals, and many others.
​Thelma's sophomore album Stay charted on the earshot music charts sitting at #4 across Canada and #9 on the International Indigenous Music Charts and #30 on the iTunes charts. Her album Stay received a nomination for Best Country Album at the Indigenous Music Awards and was played on CBC Radio across Canada. Thelma's album was recorded at the famous Stagg Street Studio in Los Angeles, California with acclaimed producer Bill Bell (Tom Cochrane, Jason Mraz, Jimmy Rankin). Thelma was joined by a stellar group of L.A.'s finest musicians, which included Kenny Aronoff (John Fogerty), Jessy Greene (Pink), Chris Joyner (Heart), Chris Chaney (Alanis Morrisette), and Merritt Lear (Jason Mraz).
Thelma Cheechoo's live performance at NACC on October 29th, 2020
In 2019, Thelma was invited to the British Forum on Ethnomusicology in Aberdeen, Scotland. She was a guest lecturer and spoke on the music history of the James Bay Cree. At the request of the Folk Society of Scotland, Thelma was a guest artist representing Canada and performed at the Blue Lamp with some amazing musicians from the United Kingdom.
In 2018, Thelma was invited to the International Youth Suicide Prevention Conference in Perth, Australia. She was asked to present her program the Youth Music Mentorship, a music empowerment program she designed and developed. The education program helps to inspire and motivate Indigenous youth through music and music therapy.
Thelma collaborated with The Centre of Best Practices and Culture Is Life from Melbourne, Australia, along with First Nation artist Glenn Skuthorpe and tour manager/producer Katie Symes for the Love and Hope Campaign on suicide prevention. Thelma presented a workshop to help develop a song to include in the campaign. The Youth Music Mentorship faculty/mentors worked with youth participants from around the globe to create a song called "Love and Hope". Thelma and other Indigenous artist performed the song live and it was streamed across Australia. Proceeds from the song will go directly to the Centre of Best Practice and Culture Is Life to help fund programs for suicide prevention.
Before the pandemic, Thelma was invited back to the UK and set to tour the United Kingdom. The tour has been rescheduled for 2022. Thelma is presently working with her producer Bill Bell on her 4th studio album to be released in the fall of 2022.
Aside from music, Thelma has worked with many First Nation communities, elementary, secondary schools, and post-secondary institutions. She holds a Bachelor of Arts Degree with a concentration in social welfare administration, an Honours Bachelor of Social Work Degree, and a Masters Degree in Social Work.
Learn More About Thelma's Work: