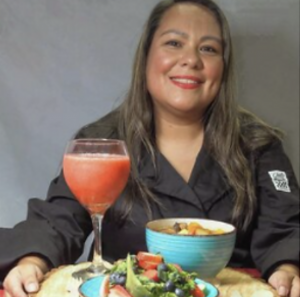 Nawatiin Kwe (Candace) is the creator of Candace's Catering. She is an Indigenous entrepreneur who has been a frontline worker in the Indigenous community for 15 years and counting. Her passion for food and drive to find alternative and unique ways to serve her community is what fueled the fire that created Candace's Catering.
She has experience catering for community events, ceremonies, and professional events across Toronto. With her continuous growth and success, she emphasizes wellness and its importance in her life. Through her cedar tea kits, she offers her knowledge as she is eager to share and aid others on their own wellness journey, while highlighting her desire for making these gorgeous medicines accessible to numerous communities.
"My dream is to travel North America and beyond to build relationships with communities, gain knowledge about food, plants, and medicines and share these stories and knowledge with the world. " – Nawatiin Kwe (Candace)
Candace offers a wide variety of Indigenous dishes. Her catering menu features refreshing drinks from Strawberry juice to cedar tea. She has gorgeous salads and soups like her Three Sisters Soup and her Berry Salad. Her main course has Glazed Salmon, Venison Chili, and a number of other wonderful dishes to choose from in addition to her spectacular Berry Crumble.
Candace's Catering can be found on Instagram @Candace_Catering
Contact Candace's Catering and place your orders on her website at www.candacescatering.ca