Pain Scales: Clients with Cognitive Impairment
Assessment of pain in clients who are cognitively impaired requires a different approach because they may not be able to optimally communicate their pain via self-report. Instead, you may need to use observational tools that incorporate and sometimes rely on dimensions of pain such as behavioural and physiological cues (Lichtner et al., 2014). For example, clients with late-stage dementia often have limited cognitive capacity and are unable to understand and answer questions.
Systematic use of pain assessment tools enables better evaluation and management of pain in individuals who are cognitively impaired (Ludvigsson et al., 2020). However, to date no one tool has been widely adopted and internationally recognized for assessing pain in clients who are cognitively impaired (Kunz et al., 2020).
Over the last 30 years, many clinicians and researchers have developed and evaluated various tools for this population. One commonly used tool is the Abbey Pain Scale, and another more recent tool is the Pain Assessment in Impaired Cognition (PAIC15). All tools should be used with caution considering the complexity of psychometric testing of the validation and clinical utility of pain assessment tools with clients who have cognitive impairments like dementia (Lichtner et al., 2014).
Abbey Pain Scale 
Development of the Abbey Pain Scale began in the 1990s, with the goal of assessing pain in people with late-stage dementia whose communication is severely impaired (Abbey, 2004). The scale is appropriate for clinical practice because it is simple and efficient to use and can be used by various healthcare providers; it is not time consuming and is effective with a reasonable degree of validity.
As shown in Figure 7, the scale is based on behavioural observations including:
Vocalization.

Facial expression.

Changes in body language.

Behavioural changes.

Physiological changes.

Physical changes.
The tool is a movement-based assessment, and therefore should be performed while moving a client such as assisting them to sit or bathing them (Abbey et al., 1998; 2002). Movement can induce pain, so assessment during movement is most informative. Higher scores indicate higher pain levels.
The Abbey Pain Scale is commonly used in long-term care settings where reassessment over time is frequently required.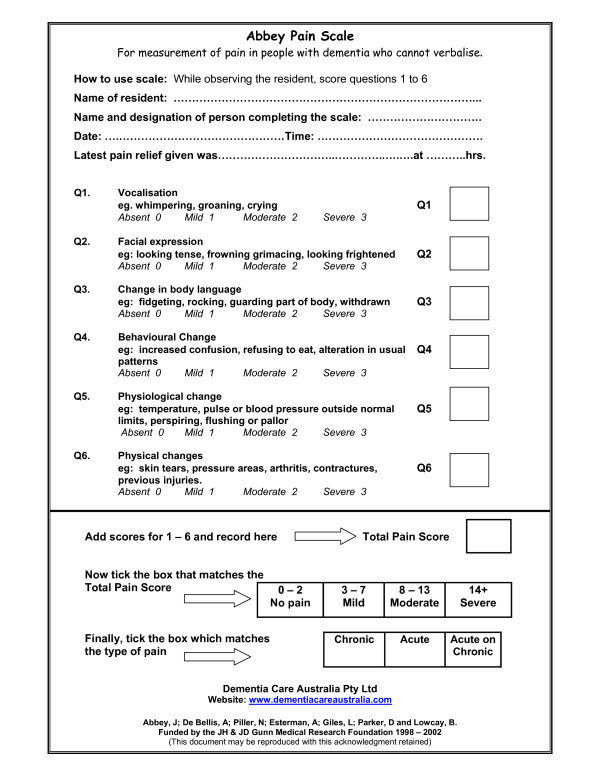 Figure 7: Abbey Pain Scale.
Copyright: Free to use. The original Abbey Pain Scale may be reproduced provided acknowledgement below is retained.
Abbey, J; De Bellis, A; Piller, N; Esterman, A; Giles, L: Parker, D and Lowcay, B.
Funded by the JH & JD Gunn Medical Research Foundation 1998 – 2002
(This document may be reproduced with this acknowledgement retained)
Nurses play an important role in assessing pain with clients who are cognitively impaired, because they provide the most regular care and are aware of the client's baseline behaviours. It is important to assess pain regularly when establishing a baseline. Remember that the Abbey Pain Scale is designed to be used when the client is in movement: you can assess pain while assisting the client with bathing, dressing, or transferring to a chair. The assessment is quick, so you can use it frequently, for example hourly and then every four hours over a 24-hour period until an effective pain-relieving intervention is achieved.
Pain Assessment in Clients with Impaired Cognition (PAIC15)
The PAIC15 Scale is a recently developed and interesting tool for use with individuals who are cognitively impaired, particularly those with dementia. It was developed through a large multidisciplinary collaboration of clinical, research, and methodological experts, including nurses, from several European countries (Kunz et al., 2020). The team of experts developed this new meta-tool over a period of seven years, during which team members empirically evaluated items from all existing pain-related observational tools (including the Abbey Pain Scale) and reached consensus on the 15 most promising items, based on validity and reliability (Kunz et al., 2020).
As shown in Figure 8, the PAIC15 includes of 15 descriptors with five items each for:
Facial expression.

Body movements.

Vocalization.
The PAIC15 is helpful when you have limited time with the client, as you can quickly assess pain either at rest or with movement. You can go to the PAIC15 Scale website for additional information about the tool and free online training.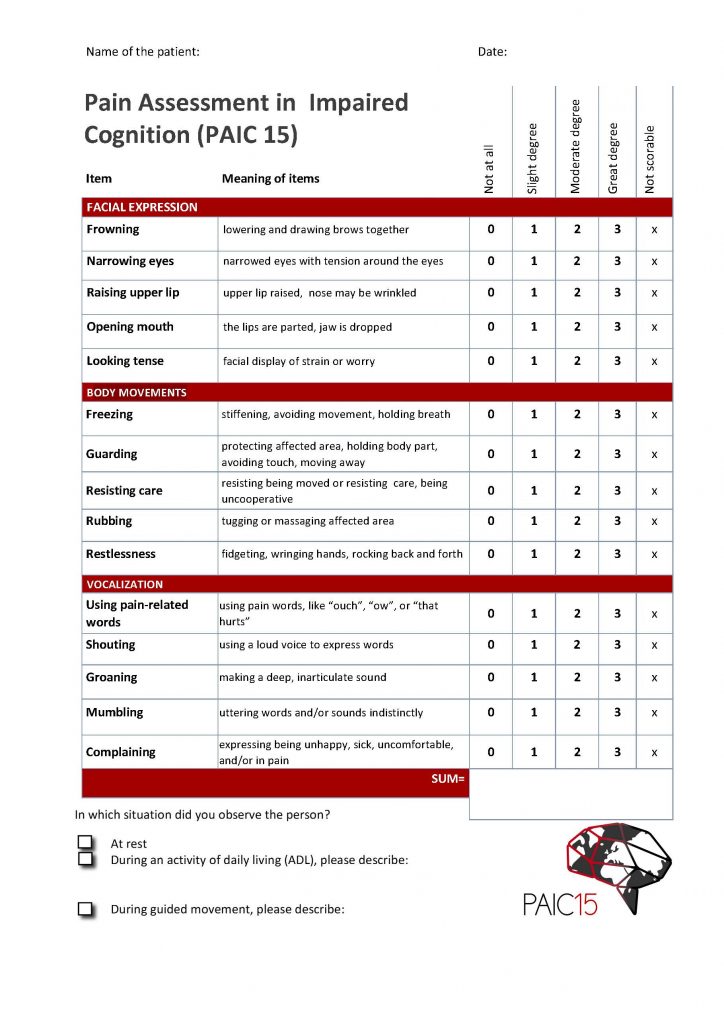 References
Abbey, J., De Bellis, A., Piller, N., Esterman, A., Giles, L., Parker, D., & Lowcay, B. (1998-2002). Abbey Pain Scale. https://www.cgakit.com/m-5-abbey-pain-scale
Abbey, J., Piller, N., De Bellis, A., Esterman, A., Parker, D., Giles, L., & Lowcay, B. (2004). The Abbey pain scale: a 1-minute numerical indicator for people with end-stage dementia. International Journal of Palliative Nursing, 10(1), 6-13. https://doi.org/10.12968/ijpn.2004.10.1.12013
Kunz, M., de Waal, M., Achterberg, W., Gimenez-Llort, L., Lobbezoo, F., Sampson, E., van Dalen-Kok, A., Defrin, R., Invitto, S., Konstantinovic, L., Oosterman, J., Petrini, L., van der Steen, J., Strand, L., de Tommaso, M., Zwakhalen, S., Husebo, B., & Lautenbacher, S. (2020). The Pain Assessment in Impaired Cognition scale (PAIC15): A multidisciplinary and international approach to develop and test a meta-tool for pain assessment in impaired cognition, especially dementia. European Journal of Pain, 24(1), 192-208. https://doi.org/10.1002/ejp.1477
Lichtner, V., Dowding, D., Esterhuizen, P., Closs, S., Long, A., Corbett, A., & Briggs, M. (2014). Pain assessment for people with dementia: a systematic review of systematic reviews of pain assessment tools. BMC Geriatrics, 14,(138), 1-19. https://doi.org/10.1186/1471-2318-14-138
Ludvigsson, C., Isaksson, U., & Hajdarevic, S. (2020). Experiencing improved assessment and control of pain in end-of-life care when using the Abbey Pain Scale systematically. NursingOpen, 7(6), 1798-1806. https://doi.org/10.1002/nop2.566